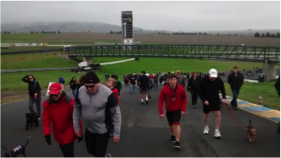 What is normally a race track filled with cars was filled with over 300 people running and walking through the turns to raise money for a very special cause. The March was held in memory of John Cardinale, a friend of No Stomach For Cancer, and passionate advocate for stomach cancer awareness, who lost his battle with Stage IV stomach cancer in 2013.
No Stomach For Cancer is so grateful to Sonoma Raceway and especially Steve Page and Diana Brennan for organizing the event and to continue to fight on John's behalf and to honor all those whose lives have been touched by stomach cancer.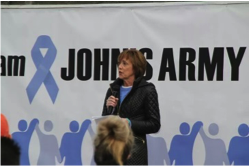 My daughter, Hannah, and I were extremely proud to be associated with such a wonderful event. I never met John, but I lost my husband to stomach cancer in 2012. He was 56 years old. I joined No Stomach For Cancer shortly after that to try to help in some way to fight this awful disease. I was at John's March in spirit last year, and was so honored to be there this year. John believed in NSFC and what we are about.
The event raised more than $15,000 for No Stomach For Cancer. I want to thank everyone who participated and donated their time and money. I didn't get a chance to meet everyone, but we met so many wonderful people at this event, some whom I know will be friends forever.