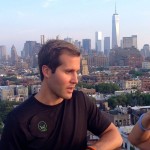 Not long ago, CureWear Founder Alex Niles was enjoying life like any other 30-year old: late nights with friends, spontaneous global travel, and the passionate pursuit of opportunity.
Then came the curveball.
In the fall of 2013, Alex was diagnosed with stage IV gastric cancer. A former Division I scholarship athlete at Drexel University, Alex quickly nominated himself MVP—most valuable patient—and committed himself to making the most of treatment and life. With unique first-hand insight into the patient experience, Alex soon discovered that even the smallest things can have the biggest impact. Understanding the need and space for strengthened palliative care, Alex designed CureWear, a functional and fashionable line of patient-centric and advocate-friendly shirts that foster treatment, healing, and unity.
Receiving a cancer diagnosis is incredibly shocking, like getting the wind punched out of you. Hearing those words not only leave you speechless, but feeling scared and alone. My diagnosis came as a shock to me, not only because of my young age but also because I have been an active and health-conscious individual throughout my life. I was confused and lost, and felt as if I was betrayed. All those countless hours of my life dedicated to being healthy, to becoming a Division 1 scholarship athlete, to eating right — where was all of that now?
Shortly after my diagnosis, I realized that even though I was on my own path, it was my choice how I would move forward. I had been accustomed to team sports, collaborating with people, and being social my whole life. I thought to myself why should I change that now, when I could use the rally of support from friends and loved ones, even strangers at times. Might as well put my high school superlative 'Biggest Flirt' to use now, right?!
Of course support comes in different forms, and as the person undergoing harsh treatment while dealing with the stress of a diagnosis, I couldn't dictate when that support would come or what form it would come in. I found that loved ones and friends wanted to help, but sometimes 'putting yourself in someone's shoes' is easier said than done. I've seen the look on my parents' face, on my brother's face, on my friends' face's – sometimes they seemed stuck in headlights as well, but I assure you that providing comfort through a familiar face is exactly what I found myself yearning for. Below are some things to consider, to ensure you are able to provide the best support.
Don't be specific, be open ended
Life after being diagnosed with cancer is extremely difficult to plan. I found at times that any-thing relating to specifics was very stressful – whether it was 'when is your next treatment' or 'how long will you be on treatment for,' these precise inquiries brought on a sense of unknown or feeling trapped. Questions like 'how do you feel,' or 'is there anything you need' are much more welcomed. Not only do they give the patient the opportunity to answer and react freely, but it will allow the supporter to truly gauge where they can help!
Stay healthy, choose healthy, know your limits
Imagine showing up to work on a Friday hung-over from a late Thursday night out. Would you say you are able to perform as well as if you were well rested? The obvious answer is no, and the same applies for the effort behind supporting one in need. By no means am I saying stop going out on Thursday nights (if you do, let me know!), but make sure to not lose track of your own health, because if you are not able to provide support at your best, no one is benefitting. I think an easy, smart way to get around this is to take up a healthy activity with the one you are supporting. For instance, I would actively meditate, or take yoga, with friends and family members. Not only did it put me in the right mind frame, it allowed us to heal and stay calm together, while spending quality time on something positive.
Trust your instincts
If you are family, a friend, or a loved one in someone's life, chances are you are there for a reason and you know the person you are supporting well. I would encourage you to rely on what you know about the person you are supporting, and leverage that knowledge to make their lives more full of positivity and time with you – someone they care about. For me, spending time with friends and family watching soccer over the weekends is something I will never forget. Sure, it wasn't my friends' favorite thing to do (they'd rather have been watching college football), but they were being supportive and spending time with me enjoying something together, allowing me to feel 'normal' amidst a challenging time.
When I was diagnosed with Stage IV cancer in the Fall of 2013, I never knew I could feel that alone, that isolated. I now know how lucky I am to have love and support in my life, and because of that I know that you, as a supporter, will provide the same feeling to those you support. I stand up and fight every day, for myself and for those who are affected by this illness, but knowing that I am not alone gives me strength, comfort, and confidence in taking one step after another. Together we will win, together we will win.
It is with a heavy heart that we share that Alex lost his battle to stomach cancer since writing this article.