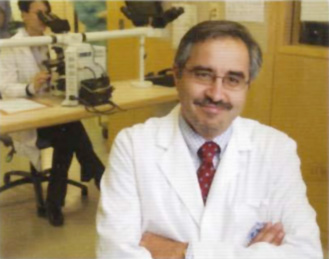 "You have doctors you've never met, but who are absolutely essential to your care. Pathologists are in the background, but are key to diagnosis, treatment, and care," says Kent B. Lewandrowski, MD, associate chief of Pathology and director of clinical services for the Pathology Department at Massachusetts General Hospital.
Karen Chelcun Schreiber discovered the critical nature of pathology in the treatment of HDGC while researching the topic after testing positive for the CDH1 gene mutation that causes HDGC. While interviewing a prospective surgeon she asked "Who will be analyzing my stomach, who is the pathologist?"
She learned of Dr. Gregory Lauwers, his expertise with gastric cancer, his experience with HDGC patients, and more about the extensive and time-consuming analysis that would be performed on her stomach following its removal. She met with Dr. Lauwers, approximately sixteen days following her surgery, to get her pathology results firsthand and learn more about the process.  Her stomach remains, in Boston, in wax blocks, in 170 sections, in a drawer, for all of eternity. 
Learn more about the importance of surgical pathology in an article by Cathryn Delude, "Pay Attention to the Pathologist Behind the Curtain."