NSFC Board of Directors
Our Board of Directors governs and advises us in our endeavors to save lives, empower families, advance stomach cancer awareness and education, and lead our efforts to fund the most promising research to make the greatest impact. Many of our Board members are survivors of stomach cancer or caregivers to a stomach cancer patient. Their personal experiences are what drives them to give selflessly to our cause and, at times, put others' health and wellbeing before their own.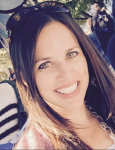 Terri Beach
Frederick, MD.
Terri is humbled and honored to be a part of the NSFC Board. Stomach cancer hit her family in July 2014 when her father was diagnosed with stage 2 gastric cancer. He underwent surgery and chemotherapy in Baltimore, MD. After discussing his family cancer history and learning that three members had lobular breast cancer, doctors decided to test for the CDH1 gene, and he tested positive.
Terri tested positive for the CDH1 gene in April 2015 and had a total gastrectomy in July 2015. NSFC was a constant resource throughout the process and provided invaluable support for Terri and her family. Since her surgery, she has actively raised awareness and funds for research for NSFC in her hometown. As a board member, she is highly motivated to expand these efforts on a broader scale, hoping to find new options for her children (who will eventually be tested) and other cancer patients. She looks forward to supporting and helping others navigate through this terrible disease.
Terri lives in Urbana, MD, with her husband, Pete, and two children. She is a former elementary school teacher who now works as an event planner at St. Andrew's Episcopal School in Potomac, MD.
Terri joined the board of NSFC in January 2016.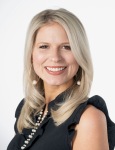 Kathryn Carr
Dallas, TX

In 2019, Kathryn learned she and four family members carry the CDH1 gene mutation. Despite clean results from her initial esophagogastroduodenoscopy biopsies, she proceeded with a total gastrectomy in 2020. The full post-op pathology report showed twelve spots of stage A1 hereditary diffuse gastric cancer. Two years later, Kathryn proceeded with a prophylactic double mastectomy which revealed a benign tumor forming in the left lobules.

Kathryn views the support of the No Stomach For Cancer community as a gift from God. The wisdom, insight, and friendship found in this unique group have given Kathryn and her family members steady guideposts to make this experience easier to digest. Joining the NSFC board is her way of helping others who find themselves at the starting line. She empathizes with the overwhelming feeling of receiving the diagnosis and attempting to understand life without a stomach. She wants to give others hope that not only can life be normal again, but it can also be enhanced and filled with gratitude.

Her best days are spent with her two dogs, who are so excited that she often needs help cleaning her plate.

Kathryn joined the NSFC board in July 2023.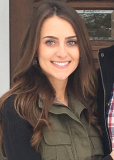 Hannah Davis
San Diego, CA.
After Hannah's father and his cousin received a diagnosis of stomach cancer within the same year, genetic testing was pursued. Genetic testing revealed a CDH1 gene mutation in both men and in 2012, Hannah's father lost his battle with stomach cancer. In 2013, Hannah also tested positive for the same genetic mutation and had a total gastrectomy in 2017 after completing graduate school.
Hannah's mother, Melanie Torborg, has been on the NSFC board as the Board Treasurer since 2013. Together, they have participated in several events, including annual walks, John's March, and Spotlight on Stomach Cancer events in Boston, Philadelphia, and Los Angeles. Hannah graduated with her bachelor's degree from the University of Wisconsin-Madison and completed her Master's degree in Speech-Language Pathology at the University of Wisconsin-Eau Claire. She is a Pediatric Speech-Language Pathologist in San Diego, CA, where she resides with her husband, Corey, and dog, Oakley.
The support that she received from the NSFC community during her CDH1 journey was extremely helpful. From her father's death, processing her CDH1 diagnosis, and undergoing a total gastrectomy, she is immensely grateful for the knowledge and camaraderie that she has found through the organization. She hopes to pay it forward to others navigating this unique journey.
Hannah joined the NSFC board in July 2021.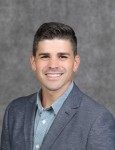 Dylan Davison, MBA
Board Chair
Charleston, SC.
After losing two relatives to stomach cancer, Dylan and his mother learned, in 2017, that they had the CDH1 gene mutation. Before passing, their relatives were faithful to contact his mother and encourage the two of them to get tested for the gene mutation. From the moment Dylan learned his mother, and he had the CDH1 gene mutation, he spent most of his early days reading the content on No Stomach For Cancer's website and helping his mother decide on a surgeon.
After two successful prophylactic total gastrectomy's, they both learned each had stage one stomach cancer that was undetected before surgery. He is forever thankful for the work that No Stomach For Cancer has done and is honored to join the board to help with fundraising, advocacy, and strategy as NSFC continues to help those affected by stomach cancer.
Dylan has worked with non-profits for over 13 years and holds an MBA from Auburn University. He currently works for a software company that is the leading cloud software provider for the non-profit community. Although he has no stomach, he still competes in triathlons and is dedicated to helping those affected by stomach cancer live the best lives possible. He is married and has three children.
Dylan joined the board of NSFC in March 2018.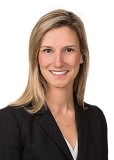 Cailyn Reilly-Knapp
Alexandria, VA.
In 2011, one of Cailyn's uncles died from stomach cancer. Two years later, another uncle died from the same disease. Seeking answers, Cailyn's father pursued genetic testing, discovered the CDH1 mutation in his family, and had his stomach removed. Cailyn then pursued genetic testing herself and found that she also carried the mutation. After a surveillance stomach scope, doctors identified stage A1 hereditary diffuse gastric cancer, and Cailyn elected to have a total gastrectomy in 2017. Three years later, Cailyn had her first child.
No Stomach For Cancer's awareness, advocacy, and fundraising work give Cailyn hope that future generations will have a better way of handling gastric cancer. In the meantime, Cailyn is proud to be part of an organization that helps patients like herself prepare for and recover from surgery and serves as an invaluable source of support as patients and their families adjust to their new normal.
Cailyn graduated from Colgate University, where she played Division I lacrosse. She received her law degree from Villanova University and is a litigation attorney in the D.C. area. She lives in Alexandria, Virginia, with her husband, son, and chocolate lab.
Cailyn joined the Board of NSFC in June 2020.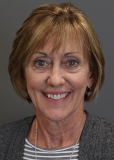 Melanie Torborg, CMA, MBA
Treasurer
Plymouth, MN.
Melanie's husband, Tom, died of stomach cancer in 2012, carrying the CDH1 gene mutation. Since his diagnosis, ten members of his family (siblings and cousins) have had their stomachs removed. He saved many lives, and Melanie wants to contribute her talents to No Stomach For Cancer as her way of helping others who are struggling with this disease.
Melanie is the Program Director of the Accounting Programs at Saint Mary's University in Minneapolis. She has a Bachelor's Degree in Finance and a Master's Degree in Business. She is also a Certified Management Accountant with over 20 years of experience in corporate accounting. Her favorite areas of accounting are budgeting, strategic planning, and financial statement analysis.
Staff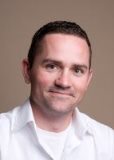 Jon Florin
Executive Director – Chief Patient Advocate
Waunakee, WI.
Jon joined NSFC in the Spring of 2015. He comes from a diverse background in marketing and customer service. His most important goal as the Executive Director is to bring stomach cancer to the forefront of the public view and increase the media's attention to the disease. This is no small task, as stomach cancer is often disregarded as a public health issue, although over one million new cases are diagnosed each year. 
After five years leading the organization with no personal connection to stomach cancer, Jon's Brother-in-Law, Zack, was diagnosed with Stage IV Hereditary Diffuse Gastric Cancer. Zack lost his battle with the disease within 14 months after diagnosis at the age of 40. Jon now has a renewed sense of purpose and drive to make a lasting positive impact on the stomach cancer community.
Founder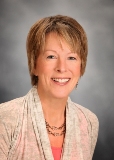 Karen E. Chelcun Schreiber
Founder
Board Service 2009-2015
Madison, WI.
Following a 31-year career in accounting, law firm administration, and technology, Karen celebrated her early retirement in 2005. Two years later, her brother's stage IV stomach cancer diagnosis started Karen down an unexpected path. Having lost her mother to the same disease 25 years earlier, her quest for information led to the discovery of the CDH1 gene mutation in her family that causes Hereditary Diffuse Gastric Cancer (HDGC). While planning for her preventive total gastrectomy, she established the Chelcun Family Fund for Stomach Cancer Research and launched the first version of this website in July 2008, known at the time as "Be Strong Hearted." This call to action grew out of concern for her family's stomach cancer story; it quickly became about every family's stomach cancer story.
Karen's brother Greg lost his battle in early 2009. The lack of awareness of stomach cancer, funding for research, resources, and support for those affected by the disease, and the grim survival rates highlighted the need for an organization dedicated to fighting this disease. Already a leading resource for those affected by stomach cancer throughout the world, it was time to move beyond the family.
Karen founded No Stomach For Cancer in 2009.  She was instrumental in the growth of the organization throughout the years and served in many capacities, including Board Chair.  She remained actively involved in the organization until turning over the reins in 2015. Karen's commitment to supporting HDGC families and research is as strong as ever with the creation of HereditaryDiffuseGastricCancer.org and SaveOurStomachs.org. Sadly, Karen passed away in July 2023 after a pancreatic cancer diagnosis, but her impact and legacy live on through No Stomach For Cancer and with CDH1 families worldwide.