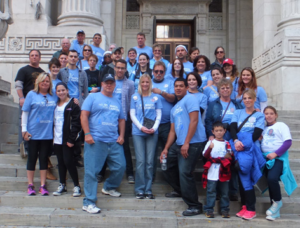 Headquartered in Madison Wisconsin and serving families around the globe, No Stomach For Cancer (NSFC) is a worldwide leader in raising awareness, advancing stomach cancer education and supporting individuals and families affected by all forms of stomach cancer. The 501(c)(3) non-profit organization has a mission to fund research and unite the caring power of people worldwide affected by stomach cancer.
Stomach cancer is the third leading cause of cancer deaths worldwide and the fifth leading cause of cancer worldwide.
Founded by a Family, for the Empowerment of Families.
We fight for you, and for everyone we have lost to this disease.
In 2009, after losing two family members to stomach cancer and learning about the CDH1 genetic mutation that increases the risk of developing stomach cancer, Karen Chelcun Schreiber founded NSFC. The goal was to advance awareness and education about stomach cancer, including Hereditary Diffuse Gastric Cancer (HDGC), provide a support network for affected families and support research efforts for early detection, screening, and prevention of stomach cancer.
Read more about NSFC's history and founding.
Families with Hereditary Diffuse Gastric Cancer (HDGC) are at high risk of developing stomach cancer and lobular breast cancer. About half of HDGC families have a CDH1 gene mutation.
Raise Awareness
One of NSFC's key priorities is stomach cancer awareness. NSFC shares information with the general public and within the medical community to promote earlier stomach cancer diagnoses and improve survival rates. We distribute facts and information on stomach cancer's prevalence and impact through our website, resources, educational events, fundraisers, public relations, media outreach and Stomach Cancer Awareness Month. Understanding stomach cancer symptoms and risk factors, including the genetic risks associated with Hereditary Diffuse Gastric Cancer (HDGC), helps to save lives.
The 5-year survival rate for Stage IV stomach cancer patients is only 4%, and the overall 5-year survival rate is about 29%.
Help & Support
NSFC provides a worldwide network for patients, their families and the medical community to connect and share resources for diagnosis, treatment, emotional support, and research. We are here to support those affected by all types of stomach cancer.
Treatment of stomach cancer often includes gastrectomy (removal of part or all of the stomach).
Education
NSFC works diligently to advance stomach cancer education within the medical and scientific realm, as well as with the public. Our education efforts include physician and genetic counselor education programs, volunteers sharing personal stories and statistical information, Spotlight on Stomach Cancer events and NSFC's Scientific Advisory Council (SAC) providing expert perspectives and guidance on technical, medical, genetic and research-related topics.
Treatment of H. pylori infection (a bacterial stomach infection) can decrease the risk of stomach cancer development.
Research & Collaboration
In keeping with the organization's mission, NSFC supports research efforts for screening, early detection, treatment and prevention of stomach cancer. We fund gastric cancer research grants, a scholarship for conferences and inform on opportunities for involvement in research studies. NSFC collaborates with individuals and organizations that have compatible interests and goals to accelerate the ability to make positive strides in the fight against stomach cancer.
Funding for stomach cancer research makes up only about 0.5% of the National Cancer Institute's research budget.
Empowering Families. Supporting Research.