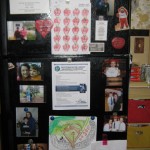 Raise awareness, have fun, and create a sense of community with a Refrigerator Campaign. It's quite simple to do!
Here is how it works:
Visit our Materials & Publications page to print a few Awareness flyers – you'll find several choices.
When you go to someone's house for Thanksgiving, bring a food item.
Attach the flyer to the wrapped food item, or tuck it in the bag or box that you are using to transport the food.
As you give your hosts the food item, tell them that November is Stomach Cancer Awareness Month and that you would appreciate it if they could put the flyer on their refrigerator (hence, "Refrigerator Campaign") and, when they have a minute, could they read it over.
Ask them to leave it on the refrigerator through the holiday season. Not only will they see it daily, but also it will serve as a reminder about stomach cancer and facts about it.
When others visit, they will notice the flyer and may even ask about it. It opens a conversation and provides an opportunity to tell someone else about how important stomach cancer awareness is to you.
Bring an extra flyer along and them to do the same when they are visiting others.
This can be done throughout the year when you go to a family gathering, a Super Bowl Party, or a 4th of July cook out. You can attach it to something store bought or homemade; it really doesn't matter. We would love to hear about your involvement in our "Refrigerator Campaign."
Share a photo with us, post it on FB or email it to us and we'll share for you.