Organizing a charity event is a great way to get the word out about No Stomach For Cancer, to further expand the circle of support for the families we serve throughout the world, to raise awareness and to raise money in a way that is fun and rewarding.
Fundraising Websites
Visit these online fundraising tools that you can personalize and share:
Fundraiser Ideas
Your event can be as large or as small as you are comfortable planning. Here are some ideas to get your creativity flowing:
Food and Beverage:
Bake Sale
Brunch or Dinner Fundraiser
Wine Tasting (at a local restaurant/business or in your home)
Picnic or Cookout
Chili Cook-Off
Recipe Book Sales
Dessert Reception
Grocery Shopping Raffle
Activities: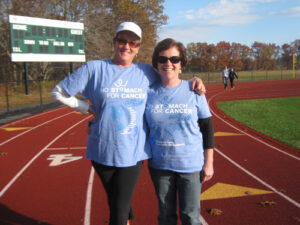 Miniature Golf Outing
Have "a-thon" (ex: bowl-a-thon, dance-a-thon, skate-a-thon, eat-a-thon)
Murder Mystery Dinner
Sporting Tournament (ex: tennis, softball, fishing, disc golf)
Challenging Walk, Hike or Bike Ride
Senior Olympics
Car Show
Talent Show
Card Tournament (ex: poker, euchre, pinochle)
Theme-Based:
A Decade Party (ex: 1950s or 1980s)
Kentucky Derby Party
Superbowl or NCAA Party
Costume Contest
Paws for a Cause, Pet Show or Dog Wash
Community Sales:
Plant Sales
Neighborhood Rummage Sales
Craft Bazaar
Quilt Show
Car Wash
Holiday Gift Wrapping
Community Clean-up Day (ex: pledges made for each pound of trash collected)
Other Ideas: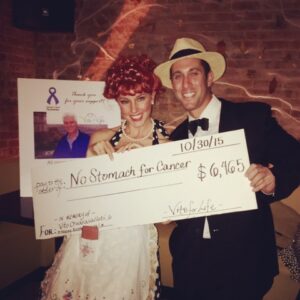 Jeans Day at Work – Ask your workplace or other businesses in your community to host a jeans day. 
Penny Wars – Begin a war in the workplace with loose change.
Gifts that Contribute – In lieu of gifts to honor special life events, achievements or memorials, request donations to NSFC.
Start a Refrigerator Campaign – Have friends and families share an awareness flyer on their refrigerator over the holiday season.
Organize an online fundraising event
Ask for Help!
Think about opportunities for support for your event within your local community. Reach out to area financial institutions, insurance companies, and local agents, real estate agencies, health care providers, major institutions, small businesses, and community leaders. Give them a call and find out whom to direct your inquiry to. They won't help if you don't ask!
NSFC Assistance
The event you organize is your event, but NSFC can offer assistance in a number of ways:
Promote your event on the NSFC website
NSFC logo and artwork for promotional items
NSFC banners and signs
Educational materials and resources
Online fundraising pages for your event
Letter of authorization to validate the event's authenticity and intention
Written acknowledgments/receipts for donors
Where feasible, a representative of NSFC may attend your event
List on NSFC's Event Calendar
Event Guidelines
NSFC appreciates the commitment and investment of time and financial resources required to organize a fundraising event. To ensure that both No Stomach For Cancer and event organizers clearly understand the expectations and responsibilities involved with organizing an event, we have developed a simple Fundraising Activity Guidelines and Application that you can request by emailing admin@nostomacgforcancer.org.
These guidelines are not meant to hinder your fundraising efforts, but rather to assure compliance with all acceptable terms of cooperation. NSFC will review your application and a representative of NSFC will contact you to discuss your proposed event. Once your fundraising event is approved, the planning can begin!
Contact us if we can be of help in any way as you consider hosting an event. Thank you for your interest and your commitment to making a difference.
Thank you for your interest and your commitment to making a difference in the lives of those affected by stomach cancer.