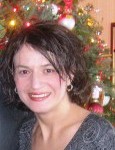 Stomach cancer became a part of my life in November 2005, when my brother Steve was diagnosed with it at age 45. A year later, two days before Thanksgiving, he passed away, just three weeks after his 46th birthday. Seven months later, we learned that his stomach cancer was related to a genetic mutation. My three other siblings and I were tested and three of the four of us were also identified as having the CDH1 mutation. By October 2007, my brother, my sister, and I all had had total gastrectomies, all of which proved to be life-saving.
Many people hear this story and think it is tragic. And yes, the loss of my brother Steve ~a father, a husband, a son, a friend~ at age 46 was tragic. However, without question, he saved our lives. As I have said countless times since 2007, this is a story of hope.
It is truly a privilege to be working with such a professional, passionate, committed organization as No Stomach for Cancer. Every member of this Board is driven to help raise awareness and funds for stomach cancer. Our organization truly has a mission, and I feel blessed to be part of such a group.
Help us keep hope alive for the many people affected by stomach cancer. Thanks for taking the time to visit our web site and sharing in our story of hope.
~ Beth Lambert