November is Stomach Cancer Awareness Month®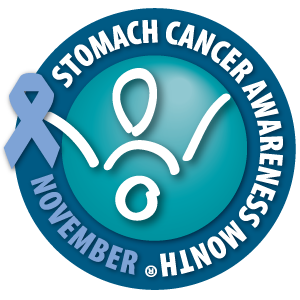 November is a month known for the pleasure of eating and is the ideal month to raise awareness about gastric cancer. There is a great deal of focus on food, nourishment, and family during the holidays. It can be challenging for people dealing with stomach cancer, especially for those living without a stomach.
In 2010, NSFC successfully championed and celebrated the first official Stomach Cancer Awareness Month in the U.S. The Surgeon General has committed to making Thanksgiving Day National Family History Day, emphasizing the importance of knowing one's hereditary risks for disease, and clearly one of the risk factors for stomach cancer.
November is Stomach Cancer Awareness Month. However, raising awareness about stomach cancer is important throughout the year!
Stomach Cancer Awareness Month Goals
The goals of stomach cancer awareness are to:
Raise awareness and support efforts to educate people about stomach cancer, including risk factors, prevention, and early detection
Recognize the need for additional funding and research into early diagnosis and treatment for stomach cancer
Raise funds for stomach cancer research
Encourage people and interested groups and organizations to observe and support Stomach Cancer Awareness Month through appropriate programs and activities to promote public awareness of and potential stomach cancer treatments.
Empower everyone by uniting the caring power of people worldwide affected by stomach cancer
Supporters hope that greater awareness and knowledge will lead to earlier detection of stomach cancer, directly associated with higher long-term survival rates. Money raised for stomach cancer research will result in better detection, treatments, improved survival rates, and, ultimately, a cure for this deadly disease.
Awareness Month Participation
Each November, we encourage patients, caregivers, families, friends, businesses, and organizations to participate in a variety of ways:
Put a face to the disease by sharing personal stories with local, national, and international media outlets.
Communicate stomach cancer awareness in local communities
Engage on our Facebook pages and other social media
Share stomach cancer awareness and support badges on your social media profiles
Attend or organize fundraising events
Participate in the Annual No Stomach For Cancer Walk
Put up a sign promoting Stomach Cancer Awareness Month®
Awareness Month History
Understanding the critical need for awareness of stomach cancer, No Stomach For Cancer (NSFC) was determined to have a month designated for awareness of this disease.
In 2010, NSFC's initiative and work with the U.S. Senate resulted in S. Res. 655, a resolution establishing November as the first national Stomach Cancer Awareness Month in the U.S.
In 2011, awareness of Stomach Cancer Awareness Month grew, organizations began requesting awareness materials and adding the 'month' to awareness calendars. More people participated by hosting local events that raised awareness and funds.
By 2012, people throughout the world were looking for an event to join in their area. In response, we held our 1st annual No Stomach For Cancer Walk, a global walk to raise awareness about stomach cancer. Participation was far beyond our expectations, with participants from 35 states in the U.S. and 10 countries worldwide.
Despite subsequent challenges to obtain official designations for the month, NSFC remained committed to increasing awareness and celebrating November as Stomach Cancer Awareness Month. The key to success, however, is a unified voice. For that reason, NSFC applied for and received US Trademark registration for STOMACH CANCER AWARENESS MONTH®. We took this action to ensure the continuity of the month.
NSFC actively encourages individuals and other groups and organizations to join in this effort and promote Stomach Cancer Awareness Month and activities.
Review STOMACH CANCER AWARENESS MONTH® Trademark and Usage Guidelines
November is Stomach Cancer Awareness Month, and each year we will work to reach more people, spread the word, share the knowledge, and ultimately save lives through awareness. We will continue to raise funds to support research for better screening, early detection, treatment, and prevention, with the hope of someday finding a cure for stomach cancer.