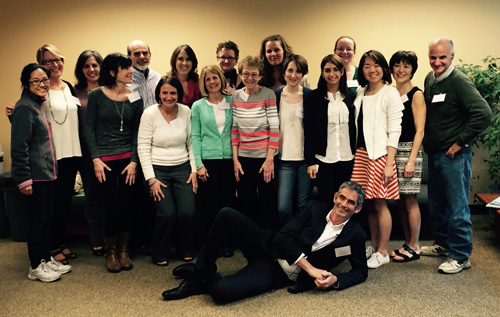 Education is a central focus for No Stomach For Cancer. NSFC educational goals include:
Help individuals and families recognize their risks for stomach cancer
Support medical professionals in identifying families at risk in time for preventive actions
Sponsor Stomach Cancer Awareness Month
Create programs for people to promote greater awareness and prevention within their communities
Stimulate and expand interest in sporadic and genetic stomach cancers
Promote family health history efforts and encourage genetic counseling
---
Spotlight on Stomach Cancer Program
The Spotlight on Stomach Cancer is an excellent opportunity for those in the Stomach Cancer community, the medical community, and the general public to come together to learn more about gastric cancer and hereditary forms of gastric cancer (its history, current state, and future hopes) from expert researchers, patients, and caregivers. Delivered by a panel of experts and community members, the Spotlight on Stomach (Gastric) Cancer program presents perspectives from and treatments for people living with stomach cancer. Experts can include professionals knowledgeable in genetic counseling, gastroenterology, surgery, oncology, pathology, and nutrition.
Fall 2017 Spotlight Program
Date: Saturday, November 11, 2017
Location: City of Hope, Duarte, CA – Cooper Auditorium
Topics: Technical Innovations in Gastric Cancer Care, Experience of Surgical Treatment for Gastric Cancer, Advances in Endoscopic Techniques for Detection and Treatment of Gastric Cancer, Immunotherapy Progress and Other Novel Therapies for Treatment of Gastric Cancer, Molecular Advancements in Gastric Cancer Care, Helicobacter, Hedgehog and Identifying Biomarkers of Gastric Metaplasia, Hereditary Gastric Cancer and Counseling for at Risk Patients, Expanding the Benefit: Genomics and Precision Medicine in Esophagogastric Cancers, Optimal Gastric Cancer Care, The Role of Surgery with a Multidisciplinary Gastric Cancer Care Model, Radiation Treatment for Gastric Cancer, Updates in Systemic and Targeted Therapies for Locally Advanced and Metastatic Disease, Palliative Procedures for Advanced Gastric Cancer, Patient-Centered Gastric Cancer, Recovering from Stomach Cancer, Management of Symptoms and Stressors Associated with Gastric Cancer, Life after Gastrectomy, Life During and After Chemotherapy
Program download.
Spring 2017 Spotlight Program
Date: Friday, May 12, 2017
Location: Fred Hutchinson Cancer Research Center | Seattle, WA
Topics: Helicobacter pylori and stomach cancer: How do bacteria cause cancer? Updates in Treatment of Advanced Gastric Cancer, The Future of GI Research to Reduce Mortality from Gastric Cancer, Genetic Counseling: What should you and your family do? Advances in Endoscopic Resection of Gastric Cancer, Inactivation of E-Cadherin in Stomach Cancers Arising in the HDGC Syndrome
Program download.
---
2016 Spotlight Program
Date: Saturday, May 14, 2016
Location: Johns Hopkins Kimmel Cancer Center's Albert Owens Auditorium – Baltimore, MD
Topics: Signs, symptoms and workup of Gastric Cancer When Acid Reducers Just Aren't Working: Endoscopy Inside and Out. Flexible Endoscopic Surgery for Stomach Cancer, Which Wave Comes First: Chemotherapy, Radiation or Gastric Surgery?, Clinical Trials, Genetics, Making a Painless Decision about Palliative Care and Hospice
Program: View and download the program here.
---
2015 Spotlight Program
Date: Thursday, April 23, 2015
Location: Temple University Center City, Philadelphia, PA
Topic: Dr. Parry Guilford travels from New Zealand to discuss Hereditary Diffuse Gastric Cancer: The past, the present, and hope for the future. Dr. Guilford's work with a Maori tribe led to the discovery of the CDH1 gene mutation.
Program: Hereditary Diffuse Gastric Cancer: The past, the present, and hope for the future.
Media recorded by Temple University School of Media and Communication, Department of Media Studies and Production.
---
2014 Spotlight Program
Date: August 9, 2014
Location: Devens Common Center, Fort Devens, MA
Topic: Current perspectives and treatments for people living with gastric cancer; people living with Hereditary Diffuse Gastric Cancer (HDGC), their families, friends, and health care professionals.
Program: Gastric Cancer
---
Education Efforts
Awareness and Education
NSFC Board Member Beth Lambert raises stomach cancer awareness at every opportunity. While much of her teaching is done informally through conversations in the doctor's office or at a social gathering, Beth and her brother, Mike Walsh, also speak formally to medical groups and the public.
Genetic Counseling Graduate Program Winter Conference, Brandeis University, Waltham, MA
Graduate Nursing Genetics Course, UMASS Medical School, Worcester, MA
Grafton High School Health Class, Grafton, MA
Inherited Cancer Syndromes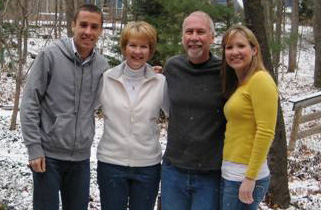 The Ministry of Health Organization of Wisconsin sponsored three physician education programs entitled "Addressing the Myths and Finding Your Patients: Inherited Cancer Syndromes." Presented by Christina Zalewski, MS, Genetics Counselor at Marshfield Clinic of Marshfield, Wisconsin, the program was well-received by more than 40 physicians and other medical providers in the Ministry system.
Held in three cities throughout Wisconsin, the series was developed due to advocacy by Cindy Chelcun of Stevens Point, Wisconsin, toward expanding education about Hereditary Diffuse Gastric Cancer Syndrome (HDGC).
Quinnipiac University Lectures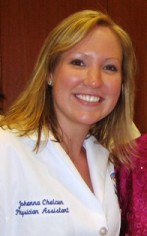 Quinnipiac University in Hamden, Connecticut, incorporated a Genomics course into its Physician Assistant training curriculum. The course teaches students about genetically inherited diseases and conditions and when to refer patients for genetic counseling based on their risk factors and family history.
In 2008 and 2010, Johanna Chelcun, MHS, PA-C, presented live lectures on Hereditary Diffuse Gastric Cancer as part of the gastrointestinal section of the genomics course. Her 2008 lecture was the first time that HDGC had been incorporated into the curriculum at Quinnipiac.
Each year, approximately 40-50 new graduates are now armed with basic knowledge and awareness of HDGC as they embark on their new careers in the medical field.