Treatment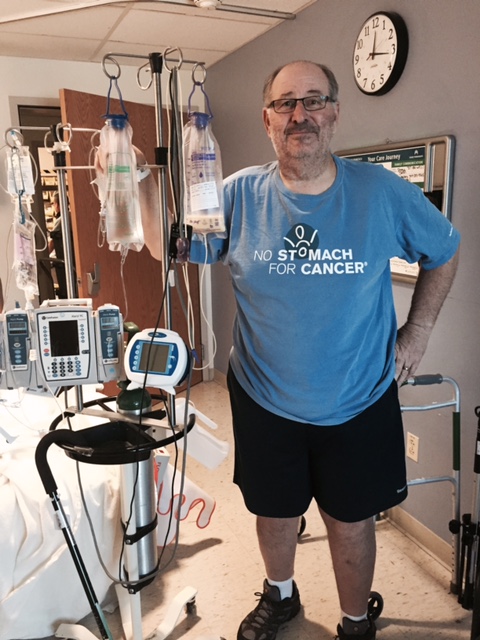 Stomach cancer is treated with surgery, chemotherapy, radiation, or a combination of these. Surgical options depend on the extent of cancer within the stomach and include partial or total gastrectomy (removal of the stomach).
Radiation and chemotherapy may be used before or after surgery to target the stomach's growing cancer cells. Medications commonly used for chemotherapy in gastric cancer patients include Fluorouracil (5-FU), Trastuzumab, and cisplatin (Platinol). In advanced cases of gastric cancer, surgery or chemotherapy may be used to alleviate symptoms. This is known as supportive care or palliative care.
Other known gastric cancer treatments are as follows:
Tyrosine kinase inhibitor (TKI) treatment
Immunotherapy (Pembrolizumab, Nivolumab)
Check Point Inhibitors (Ramucirumab)
Find a Cancer Center
NCI-Designated Cancer Centers deliver cutting-edge cancer treatments to patients in communities across the United States. Find a center near you and learn about its specific research capabilities, programs, and initiatives. Search for your closest center here.
Immunotherapy (a.k.a Immuno-Oncology)
Immuno-Oncology (I-O) is an innovative research area that seeks to help the body's own immune system fight cancer. The goal is to address the unmet need for long-term survival in patients with advanced cancers. Learn more about these treatments at the following websites.
Outcomes
The 5-year survival rate for people diagnosed with stage IV gastric cancer is only 4%, and the overall 5-year survival rate is approximately 29%. This number is low because most cases are detected at a late stage when cancer has already spread outside the stomach. However, cases that are detected at earlier stages have a better prognosis.
Research
Although the National Cancer Institute spends approximately 11 million to 12 million dollars annually on gastric cancer research, this is less than 0.5% of the total NCI budget. However, many medical centers develop clinical trials to learn more about the prevention and treatment of gastric cancer.
Clinical Trials
To make scientific advances in stomach cancer, doctors and scientists conduct research studies involving volunteers, called clinical trials. Many clinical trials are focused on new treatments, new drugs, or new approaches to existing treatments. Other clinical trials are focused on stomach cancer prevention, familial genetics, or easing symptoms and side effects during treatment. Patients who participate in clinical trials are often first to receive new treatments or information before becoming widely available.
Do you have questions about Clinical Trials, their risks, and benefits? You can view a complete video library of frequently asked clinical trial questions at the link below provided by the American Society of Clinical Oncology PRE-ACT program.
Clinical trials are critical for advancing cancer treatment, but very few patients participate because they don't know about trials or understand them.
• PRE-ACT is an educational program, delivered using videos, designed to help patients better understand what clinical trials are and how they work.
• PRE-ACT helps to make patients aware of all the possible treatment options. Each video offers practical information in less than 2 minutes.
• PRE-ACT features an online decision-making tool that identifies knowledge gaps and attitudes about clinical trials. It then recommends a series of personalized videos that will address specific patient questions and concerns.
• PRE-ACT was tested with more than 1,200 patients in a Phase III randomized clinical trial.
http://www.cancer.net/navigating-cancer-care/how-cancer-treated/clinical-trials/pre-act/video-library
Find a Clinical Trial
Get information on current clinical trials, including a trial's purpose, who may participate, locations, and how to obtain more details on clinical trials being conducted throughout the United States and worldwide.
UK Clinical Studies
https://www.cuh.nhs.uk/familial-gastric-cancer-study ,
https://www.mrc-cu.cam.ac.uk/research/rebecca-fitzgerald/clinical-studies/Familialgastriccancerstudy