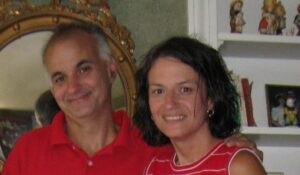 One of my favorite aspects of my involvement with No Stomach For Cancer is connecting with others – patients, their families, and medical professionals. Each day we live our mission statement of "supporting research and uniting the caring power of people worldwide affected by stomach cancer."
Several years ago, I had the privilege of connecting with Brandeis University, where Devanshi Patel, my genetic counselor and member of NSFC's Scientific Advisory Council, earned her graduate degree in Genetic Counseling. I was invited to share my family's HDGC story with graduate students in the Genetic Counseling Program at their Winter Conference. Since then, my brother Mike and I speak regularly about our family's experience. It is a great opportunity to share information with future medical professionals who will deal directly with patients. The group listens attentively and asks great questions, always focused on how to best help their patients.
Shortly after last year's conference, I was contacted by one of the professors from the program, indicating that one of her students expressed an interest in doing her thesis on HDGC. She wanted to know if I would be interested in being on her Thesis Committee. I was thrilled on so many levels. First and foremost, I was excited that her project could generate research that might help those affected by HDGC. Also, in addition to working with the exceptional Brandeis faculty, I was excited to be able to work closely with Devanshi Patel, who would also serve on the Thesis Committee.

One year and many e-mails, phone calls, and meetings later, I am excited to share with the No Stomach For Cancer community the opportunity to participate in her research study "The Psychosocial Implications of Hereditary Diffuse Gastric Cancer." I am excited because this project because it embodies what NSFC is all about, "supporting research" and "uniting people worldwide. This is a wonderful opportunity for those impacted by HDGC to share their experience, their concerns and, their suggestions.
I encourage anyone impacted by HDGC to participate in this study. Not only will it help advance research and help others, it can be therapeutic to make your challenges and experiences valuable to those whose lives may be affected by HDGC in the future.
Thanks in advance for considering participation in this study. Your help will make a difference.