By Mia Lennox-Williams, CIPP/C with PT Healthcare Solutions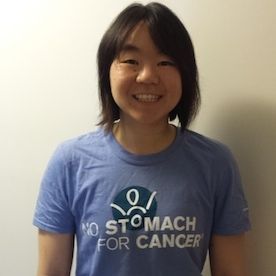 pt Health is a Community Clinic Network with 105 clinic locations across Canada employing over 1,000 people and treating thousands of patients each day.
Rachel Onishi is one of our amazing team members.
Rachel is a physiotherapist who has been working in one of our Ontario clinics since 2009. In December of 2013 she tested positive for the CDH1 gene mutation. In February of 2014, the biopsy from her second upper endoscopy revealed cancer cells in her stomach.
Rachel will have a gastrectomy this spring. Rachel has been blogging about her experience and is incredibly open and passionate about raising awareness for Hereditary Diffuse Gastric Cancer (HDGC) and the CDH1 gene mutation. pt Health wanted to help her, so we created "April for Rachel."
Throughout the month of April, we've been blogging about Rachel's story on our company blog as well as posting on Facebook and Twitter. We are also working with No Stomach For Cancer to put together an information packet to distribute to our referring physicians so that we can help to raise the awareness level within the medical community throughout Canada.
Our company will participate in Relay For Life in June and many of us will be walking for Rachel. Her positive, matter-of-fact attitude and her openness are an inspiration to all of us.
Read Rachel's story at the pt Health corporate blog
Follow Rachel's journey on her personal blog Cytosine Deleted: Life with the CDH1 genetic mutation
~ ~ ~ ~ ~ ~ ~
Depending on location, pt Health clinics offer physiotherapy, occupational therapy, massage therapy, acupuncture, psychology, hand therapy, and chiropractic among other services. We provide patients with custom bracing, orthotics, compression stockings, and home rehabilitation products. Our philosophy revolves around a collaborative approach to care. That means that we have different health care professionals working together at each each of our clinics. We're a team.