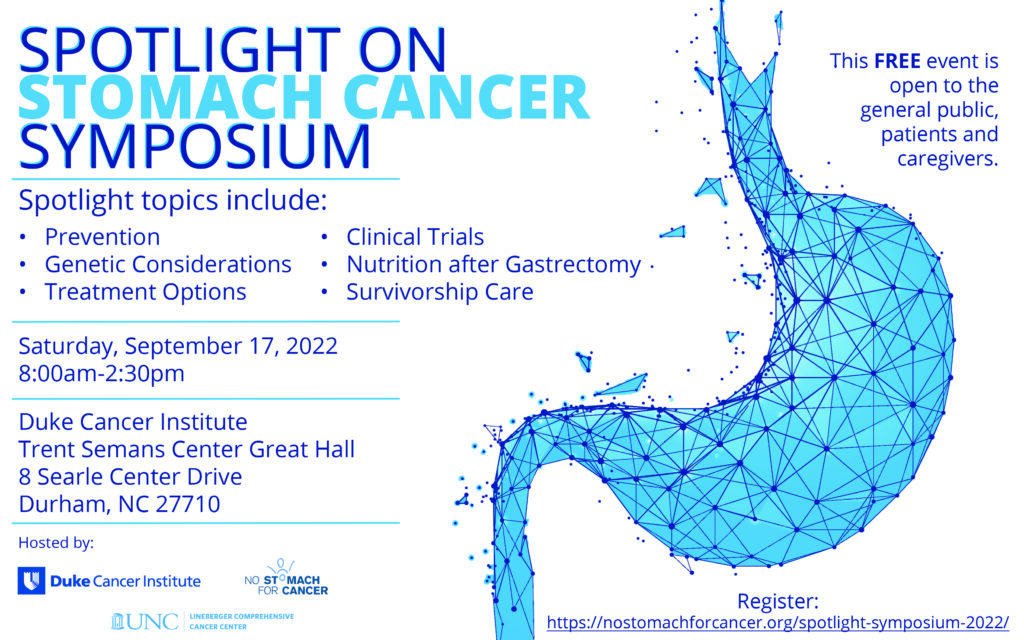 Program Topics:
• Preventing Stomach Cancer
• Stomach cancer trends and risk factors
• Appropriate testing for Helicobacter pylori
• Stomach Cancer Screening and Diagnosis
• Genetic Considerations
• Diagnosis and Management of Resectable Disease
• Radiation Treatment for Stomach Cancer
• Surgical Treatment for Stomach Cancer
• Current State of Clinical Trials for Stomach Cancer
• Personal Helicobacter pylori treatment experience
• The Stomach Cancer Journey: A Nurse's Perspective
• Living with Stomach Cancer
• Patient and Caregiver Perspectives
• Nutrition After Gastrectomy
• Survivorship Care
This FREE event is open to the general public, patients, and caregivers.
Hotel Reservations:
Guests may make discounted hotel reservations online using the following reservation booking link:
https://bookings.travelclick.com/110231?groupID=3437694#/guestsandrooms
Parking: Duke Hospital parking garage (PG 2) is located across Erwin Road from the hospital. Vehicles enter one block north at 2223 Elba Street. The garage is within walking distance from the hospital entrance—cost: $2 per hour or a maximum of $8 per day.
Go straight through the main lobby to the visitor elevators and then fork to the right (Following the signs to the Searle Center/Seeley G. Mudd Building)
Follow signs for the hallway to the Searle Center past the Duke Central Tower
At the end of the hallway, continue on the outdoor walkway leading directly to the Mudd building.
The Mudd building entrances will be on the right. Wait for the elevator and press the Searle Center / 0 level button
Exit the elevator and take a left toward the lecture hall and registration desk
Saturday, September 17, 2022
8:00am-2:30pm
Attend In-Person or Virtually
Duke Cancer Institute
Trent Semans Center Great Hall
8 Searle Center Drive
Durham, NC 27710
See in Google Maps ->