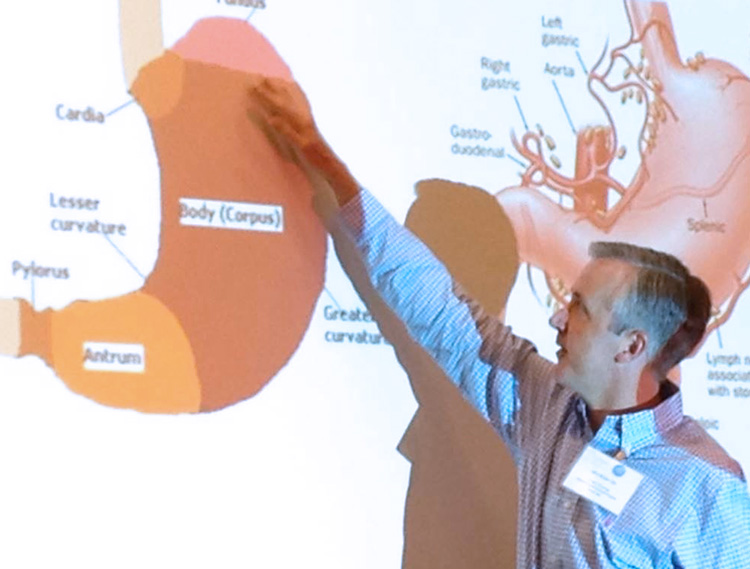 Just over a week ago NSFC's Spotlight on Gastric Cancer event was held in Devens, Massachusetts. The Spotlight on Gastric Cancer program included a panel of experts who presented current perspectives and treatments for people living with gastric cancer. The panel included an interdisciplinary team of professionals knowledgeable in genetic counseling, gastroenterology, surgery, oncology, pathology, and nutrition.
The event commenced with Dr. Hector Li Chang's informative overview of gastric cancer. Devanshi Patel spoke on behalf of genetic counseling in relation to hereditary cancer syndromes and DNA banking. The role of the gastroenterologist was shared by Dr. Christopher Marshall as well as the importance of screening, investigating symptoms, staging disease, treatment and post-surgical surveillance. Dr. John Mullen presented his expertise in various surgical procedures and how different procedures may be appropriate for different types of cancer. Dr. Jeffrey Clark presented treatment options for gastric cancer which included targeted therapies and clinical trials. The role of pathology in gastric cancer at the diagnostic, prognostic, therapeutic, and preventative stages as well as how it relates to prophylactic gastrectomy was covered by Dr. Gregory Lauwers. Donna Walsh highlighted the importance of nutrition and healthy eating prior to and after a gastrectomy as well as the important considerations with regard to nutrient and vitamin absorption post-gastrectomy. Lastly, Melanie and Hannah Torborg shared a heartfelt account of their caretaker perspectives that included advocating for yourself as a patient, self-care for the caregiver, and enjoying the hand you are dealt in life as shared by their late husband and father.
Patients, caregivers, family members and medical professionals gathered together on this sunny, summer Saturday afternoon for our first Spotlight on Gastric Cancer, an event that embodied No Stomach For Cancer's mission to "support research and unite the caring power of people worldwide affected by stomach cancer."
It was a wonderful turnout and we are grateful for all those who attended. Many thanks and appreciation to those who volunteered to help with the event, support the cause, share their knowledge, and with the courage to share their stories in hopes of helping others
No Stomach For Cancer continues to work hard to raise awareness, to educate, to support patients and families, and to support stomach cancer research. Look for an expansion of our Spotlight on Gastric Cancer series. We hope to offer an two additional events in new locations in the coming year.
by Natascha M. Santos, Psy.D.
Board Member
---
About Natascha Santos
Dr. Natascha Santos specializes in the treatment of Anxiety and Obsessive Compulsive Spectrum Disorders in children and adolescents on Long Island, NY. She also advocates for school mental health awareness and is a psychology professor.