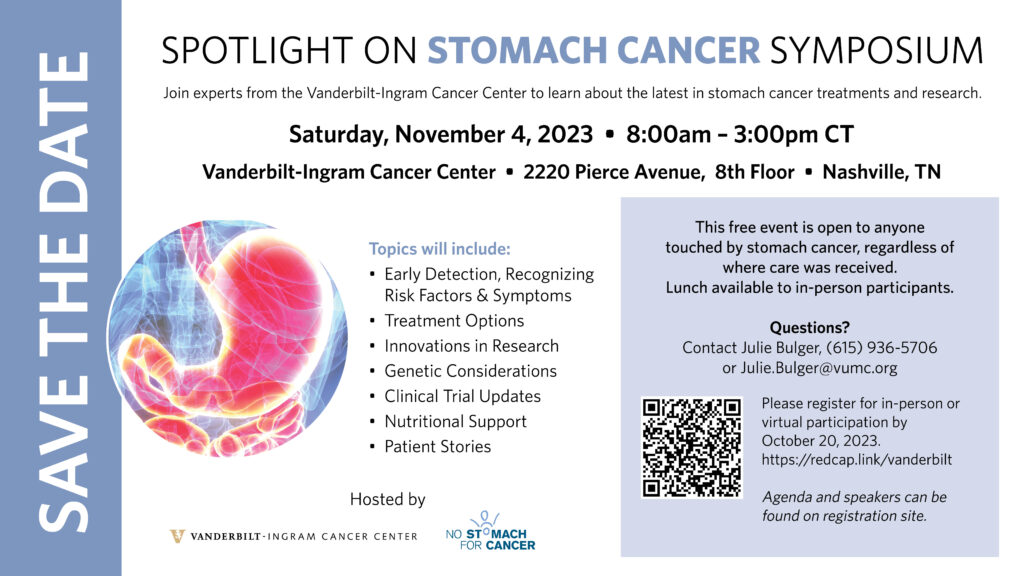 We are happy to announce our Fall 2023 Spotlight on Stomach Cancer on November 4 at the Vanderbilt-Ingram Cancer Center in Nashville, TN. In collaboration with the Ingram Cancer Center and Vanderbilt University, the Spotlight on Stomach Cancer is an excellent opportunity for those in the stomach cancer community, the medical community, and the general public to learn more about stomach cancer and connect with others impacted by this disease.
This FREE event is open to the general public, medical professionals, patients, and caregivers. The educational symposium begins at 8:30 a.m. on November 4 and includes a complimentary breakfast and lunch. The presentations conclude at 2:30 p.m.
All in attendance are welcome and invited to attend a networking reception with food, cocktails, and conversation, which will begin at 5:30 pm. In addition, 40 concert tickets are being provided to guests for a special performance from Josiah & The Bonnevilles at 3rd & Lindsley, 818 3rd Ave. S, at 8 pm.
Event Date + Time
Saturday, November 4, 2023
Symposium 8:30 am – 3:00 pm
Networking Reception begins at 5:30 pm
Event Address
Vanderbilt-Ingram Cancer Center
2220 Pierce Avenue, Nashville, TN 37232
Program Topics
• Early Detection, Recognizing Risk Factors & Symptoms
• Treatment Options
• Innovations in Research
• Genetic Considerations (CTNNA1 & CDH1 Genes)
• Clinical Trial Updates
• Nutritional Support
• Survivorship Care – Bridging Care to PCP
• Patient Stories
Discounted Hotel Accommodations
Homewood Suites Nashville Vanderbilt
The booking link to make reservations is below. If any attendees would like to make reservations over the phone, they can call the hotel directly at 615-340-8000 and reference the group code SSC.
Check in date: Friday, November 3, 2023
Check Out date: Sunday, November 5, 2023
Last Day to Book: Thursday, October 26, 2023
Hotel(s) offering your special group rate: