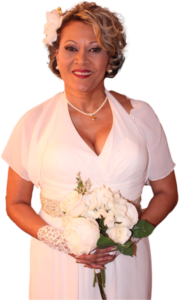 I was diagnosed with stage 4 gastric cancer in June 2020 after a series of testings, biopsy, etc. I was shocked when I heard the phrase, "you have cancer" because I considered myself pretty healthy (for a 59 year-old) up to that point. I did not have any underlying conditions and I worked out regularly as a group fitness instructor.
I felt hopeless abd defeated the first couple of months., as most of my thoughts were based on fear of the unknown. I terminated various memberships, and basically began updating my living will and trust. Fast forward to 6 months later.
I am in a much better place physically, mentally, emotionally, and spiritually. I began juicing (Gerson Therapy) and changing my diet to at least 50 percent plant based with a goal of 100 percent plant base within the next year – God willing. My husband renewed my fitness center membership so I can participate in group exercise again. Most importantly, I continued participating in church activities, including the choir.
Who am I? I am a Christian, wife, mother of 3 adult ladies, stepmother of 2 teens, and grandmother of 9 beautiful grandchildren. I love life and I'm going to do what I can do in my part to live on this beautiful earth that God created!