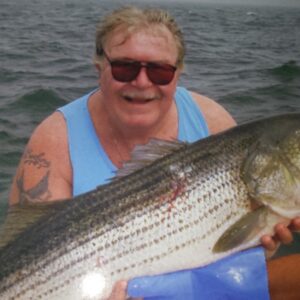 Shortly after my Dad turned 72 he was experiencing a lot of problems eating.  My father always went to his checkups, he was a Navy man and retired from the FDNY so he not only went to his private doctors but also the VA doctors.  Starting around December of the previous year he felt very tired and went to the doctors at VA and they  put him on testosterone patches (because it was low–imagine a 72 year old man having low testosterone) the patches were placed all over his stomach moving the spot everyday.   My Father's birthday is in March– in July he found out he had cancer at GE junction.   He started chemotherapy found out it was stage 4 and he could not have any surgery it had spread to adrenal gland.  He could hardly eat because of the pea size tumor was at the junction of were the stomach and esophagus meet, the chemotherapy dehydrated him and he was constantly in the bathroom , which probably got the best of him.  I remember in October he told me one Saturday he was hungry and felt like a turkey dinner –well we ran to the store and got a turkey breast and potatoes for his mashed and all the fixings to a thanksgiving dinner–and he ate it all, which brought us so hopeful that the drugs were working.   Dad's battle ended on November 9, 2012 just a little more than 3 months after his diagnosis.   
He was a beloved husband, father, grandfather, brother, uncle—He was one of the greatest men you would of ever met, he loved his family with all his heart and gave with his heart, wisdom, amazing stories, and generosity and was always there when ever we needed him. We were truly the lucky ones having him in our lives!!
The first walk for no stomach for cancer was the day my Dad took a turn for the worse in the hospital. We all wore our shirts in the hospital.
I pray that they find a better way of detecting this horrible disease and our health care professionals dig a little deeper when a patient comes in with these symptoms and they just don't let them walk away with acid reflux medicine (or testosterone patches).