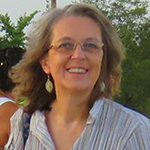 After being diagnosed with breast cancer in April 2015, genetic testing revealed I had the CDH1 gene mutation. In June of that year, I chose to have a double mastectomy rather than a lumpectomy as anticipated with the original diagnosis.
I found no local medical professional who knew anything about CDH1 and only got referred to Dr. Mansfield at MD Anderson through a fluke friend of a friend. Finding so little information about CDH1, I appreciated a couple of blogs I found and read early on.
While I probably knew I would do it for over a year, I made the formal decision in November 2016 to have my stomach removed and had my total prophylactic gastrectomy at MD Anderson on February 21, 2017. I created the blog "How Breast Cancer Saved My Life: CDH1 – The gene nobody's heard of" to give back and help others in the same way that I had been helped.