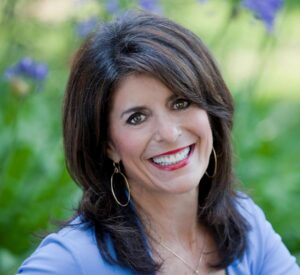 Hi, I'm Holly Clegg! As a culinary expert and best-selling author, I have sold over 1.5 million cookbooks. Throughout my career I have remained true to my healthy, mainstream, yet satisfyingly delicious recipes in my trim and terrific cookbook series, as well as my health-focused Eating Well cookbook series, which includes Eating Well Through Cancer, (English, Spanish and Chinese editions), Eating Well to Fight Arthritis and Diabetic Cooking with the American Diabetes Association.
Fifteen years ago, I wrote Eating Well through Cancer with the guidance of a medical doctor specializing in the care of cancer patients designed specifically for people undergoing cancer treatment. This unique book is divided into chapters such as Day of Chemo, Neutropenia, Sore Mouth, Caregivers… that include recipes, suggestions, and tips that are best tolerated and ease the side effects during treatment and help to maintain a healthy lifestyle after surgery. As in all of my books, you will find practical, everyday healthier, and delicious family-friendly recipes that include nutritional information.
As a wife, mother of 3 and now grandmother of 6, I understand the challenges we all face in finding the time, energy, and money to cook quick, healthy meals for a busy family. My humble journey started over twenty-five years ago in front of my stove armed with the simple desire to feed my family nutritious food.
I attended the Cordon Bleu Cooking School in London, but I owe a large part of my skill and passion for food to living in Louisiana. Southern Hospitality is not only kind words and friendly people. It also comes in steaming spoonfuls that are jam-packed with flavor and fresh ingredients. If you've tried any of my recipes, you'll notice the southern charm that I weave into the flavors. I know all the flavors work because I meticulously test every recipe to ensure it's just right.
On August 8, 2018, I was diagnosed with stomach cancer with zero risk factors and only five days of symptoms. As someone who loves to cook, loves to eat, and a cookbook author, never in my wildest dreams did I think I would be diagnosed with gastric cancer. I was completely blindsided! Stomach cancer? I had not heard of someone having this before.
Hearing the words uttered Stage III or Stage IV, I wondered what happened to Stage I and Stage II? I learned at that moment most people do not show signs of stomach cancer until it is at minimum locally advanced (Stage III). The doctors laid out my treatment plan – 8 rounds of chemotherapy treatment (oxaliplatin + fluorouracil pump), a HIPEC (heated chemotherapy applied to my abdomen) and a gastrectomy + HIPEC. My goal was to be a candidate for a gastrectomy, and being a cookbook author without a stomach; the irony was not lost on me. In May 2019, I had gastrectomy surgery, yet five days later, cancer cells were found to have spread to the fluid around my lungs. I went home in the care and comfort of hospice in June.
My passion has always been to make a difference, and especially with my cancer cookbook. I plan on sharing my journey with everyone to hopefully help many that are facing the same challenges as I am. My family and I created the Holly Clegg Gastric Cancer Research Fund at MD Anderson Cancer Center in hopes that many others down the road can continue to benefit from the excellent care I have received and treatment options yet to be discovered. As of September 20, 2019, we have raised $280,000! 100% of these funds will go towards gastric cancer research at MD Anderson to help find a cure one day! Every little bit helps, and we are so grateful for any amount of support. If you would like to donate via mail or online, visit Cancer Journey to learn how.
Thank you from the bottom of my heart for your support and joining me in this fight! I am eternally grateful for #TeamHolly. My battle has been documented on a caring bridge site for those interested here.
Lots of love,
Holly